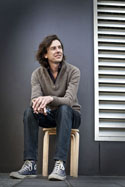 Technical Direction, Interaction Design, Sound Design, Coding and Soldering.
Gavin Sade is a designer in the field of interactive computational media, with a Bachelor of Music (Sonology) from the Queensland Conservatorium of Music and a PhD in interactive media arts and sustainability. He has been creating interactive media systems since 1990 as a member of the electronic music band Vision 4/5, and has also collaborated on many electronic artworks with Keith Armstrong and the Transmute Collective. He is currently Assistant Dean (Academic) of the Creative Industries Faculty at the Queensland University of Technology, where he has mentored emerging artists and designers for 22 years.
Gavin leads the technical production Kuuki's electronic artworks and interactive exhibits, designing systems, writing code and making custom hardware. He also collaborates with Priscilla to develop each project's concept, form, data visualisation and lighting design.  Gavin's practice is guided by an ecological philosophy inspired by vegetarianism and the critical design philosophy of defuturing, and is a mix of electronic art and critical design.
Art Direction, Fabrication, Photo-media, Illustration, Project Management and Gluing.
Priscilla Bracks is a contemporary visual artist working in sculpture, photography and illustration. Her practice explores constructed realities – from squishy concepts of truth in contemporary digital media ecologies to the potential human futures that originate from our collective imagination. In 2007, Priscilla's lenticular artwork Bearded Orientals: Making The Empire Cross was a controversial finalist in the Blake Prize for Religious Art, stimulating international debate about the influence of media and popular culture on the construction of public identities, narratives and political debate. She is currently doing her PhD on constructed identity and narrative in digital media ecologies. 
Priscilla is also a qualified solicitor, bringing a unique mix of creativity and project management to projects. She collaboratively develops concepts with Gavin and fabricates components for their artworks. She is also responsible for the scoping, research, community consultation, contract and project management work on all creative and interpretive projects. For over a decade, Priscilla worked as an interpretive designer and project manager for the iconic design firm ToadShow, on projects including The Hinkler Hall of Aviation, Glass House Mountains Interpretive Centre, Queensland's Old Government House and Whitsunday Island. She now creates content for interpretive and interactive projects for clients including the Western Downs Regional Council, the Ipswich Art Gallery, the Margaret Olley Art Centre, the Queensland Art Gallery and State Library Queensland.
Priscilla and Gavin live and work on the edge of the Mt Coot-tha forest in Brisbane, Australia, with their son and puppy. They also share their home with a menagerie of local wildlife including, a large flock of king parrots who visit each morning, one noisy possum who lives in the roof above the bathroom, and another who curiously enjoys it's dizzying life in the garage roller door.