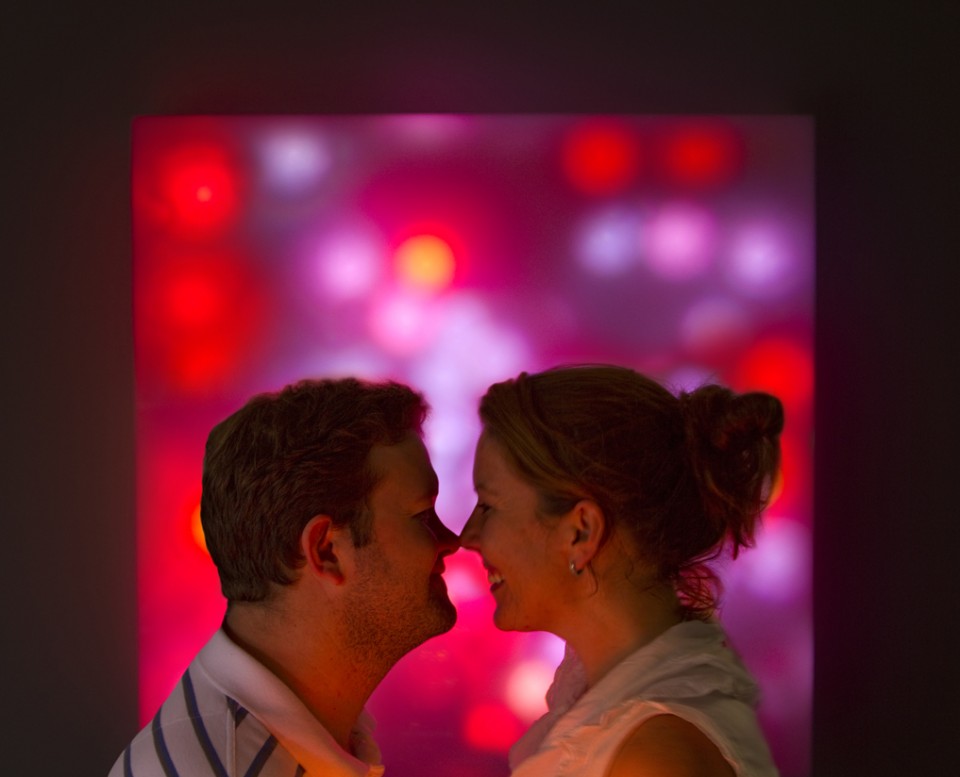 Kiss. 67 x 67 cm. Perspex, controllable LEDs, web camera and computer.
Artists Statement
In an age of mobile phones, Facebook, Twitter and online dating, interactions in mediated environments often outnumber face to face encounters. Kiss is an interactive light artwork by artists Priscilla Bracks & Gavin Sade. Kiss reacts to people standing in front of the artwork looking at each other – the moment before kissing. Without interaction the work generates a seductive, ambient, red lighting display, that creates the restful sense of staring into a fire. A fleeting response of white light – like sparks flying in the air – occurs the moment before two faces touch. These sparks are visible in peripheral vision, but fade when the kissing couple turns to look at the work.
This moment – as two people look at each other – is a primal moment when two people recognise each other. Face to face encounters with another person are a privileged phenomenon in which the other person's presence and proximity are strongly felt. Kiss does not respond to every instance of a kiss or a look. Its recognition algorithms are fussy, selecting some faces and not others. As in life it's difficult to tell why sparks fly with some people but not with others. For some this will be felt as a glitch. "This machine should be part of my social life!" But it does promote trial and error, asking viewers to be intimate in public and look at each other for longer than otherwise socially normal. 10 minutes continuous eye contact is said in most cases to arouse sexual feelings in both parties.
But even if we don't look that long, a short time may be all that is needed to explore the face of the person we are looking at. We see that they are human like us. We experience beauty, difference, discomfort, perhaps even nervous laughing, before turning to a more intimate moment of recognition.
Exhibitions
Credits
Gavin Sade & Priscilla Bracks (Kuuki)
Programming: Glen Wetherall